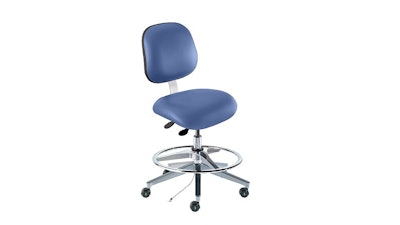 BioFit Engineered Products (Bowling Green, OH) has recently announced the introduction of phthalate- and fire-retardant-chemical-free vinyl upholstery for its combination cleanroom/electrostatic dissipation (ESD) seating line. Developed in collaboration with Duracote Corporation to comply with mandates by the State of California and other jurisdictions, the new upholstery replaces combination cleanroom/ESD and standalone ESD vinyl options previously offered by BioFit while meeting or exceeding ISO and static-control industry and comparative quality standards. The new upholstery is available on the company's combination ISO 3 to ISO 8/ESD-rated chairs and stools and maintains its predecessor's Microcon nameplate.
With the introduction of its updated selection of Microcon phthalate- and fire-retardant-chemical-free (FR-free) vinyls, BioFit has now completed the enhancement of its overall upholstery offering in response to the enactment of a State of California law limiting fire-retardant chemicals in all upholstered seating shipping into the state to 1,000 parts per million or less.
In addition to meeting ISO, ESD, phthalate- and FR-free requirements, the new vinyl features enhanced 4-way stretchability and tear strength over the original Microcon blend. Colors include blue and black, and the new upholstery is available standard on all BioFit ESD and combination cleanroom/ESD seating, including models eligible for next-day and 2-day shipping to U.S. customers. All BioFit seating for static-control applications is rated for use in facilities compliant with American National Standards Institute (ANSI)/ESD S20.20.
www.biofit.com; 800-597-0246