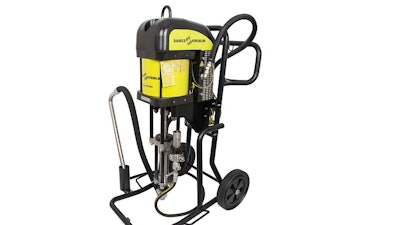 SAMES KREMLIN (Plymouth, MI) would like to announce the release of the new AZUR Airless Protective Coatings pumps and packages. This new pump range will be available in two different versions: 52C225 and 72C160. Benefits include the following:
The air motor is pulsation free which ensures stable fluid delivery in order to achieve consistent film build. In addition, the SFlow spray gun is embedded with dual diffuser technology to perform the highest paint finish quality with less re-work.

Operation in harsh and intensive conditions: minimized icing potential, high suction power capacity, air motor does not stall.  The pump is the ultimate answer for painters with high production demands.

Due to the reduced number of components; maintenance is simplified.  Daily maintenance is also minimized.

Azur pumps have the quietest air motor on the market.  This has been proven against our competition.  Gun ergonomics and maneuverability are maximizing the comfort for the operator (soft trigger pull for less finger fatigue & 360° swivel fitting).
www.sames-kremlin.com; 800-573-5554