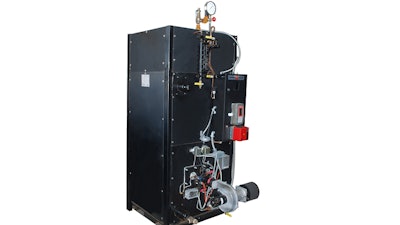 Parker Boiler (Los Angeles, CA) introduces the new 100 series-WW (Low NOx) water wall design 9.6 HP, 150 PSI Steam Boiler. Specifically:
Standard Heavy Duty 1" tubes are used with a 0.12" wall thickness.

The tubes are bent around the flame creating a water wall furnace.

A large ½" thick seamless horizontal steam drum is used for a steady water line and clean dry steam production.

The footprint is similar to a vertical tubeless boiler.

The sealed combustion design raises efficiency with lower excess air and minimizes heat loss to the room.

A low NOx metal fiber burner is standard for 20ppm and pre-certified to AQMD 1146.2.

Units will be available from 9.6 HP to 24 HP.
www.parkerboiler.com; 323-727-9800