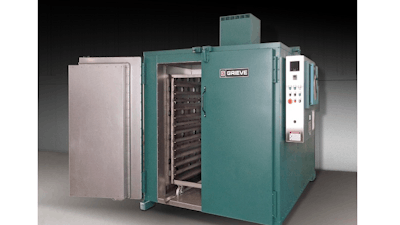 This Grieve (Round Lake, IL) oven is a 550°F (288°C) new truck oven customized from the standard TCH-550 model and is currently used for heat processing parts at the customer's facility. Specifically:
Workspace dimensions of this oven measure 60" W x 60" D x 60" H.

30 KW are installed in Incoloy sheathed tubular heating elements.

A 2000 CFM, 2 HP recirculating blower provides horizontal airflow to the workload.
This Grieve truck oven has 6" insulated walls, an aluminized steel interior and aluminized steel exterior with enamel finish. Features include a purge timer, two-position dampers on fresh air inlet and exhaust outlet and a 1200 lb. capacity stainless steel loading truck.
www.grievecorp.com
; 847-546-8225