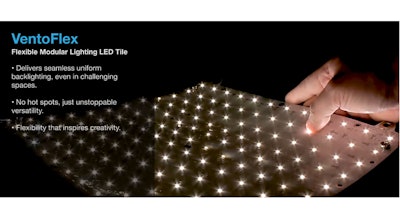 Visual Communications Company (VCC; San Diego, CA) is proud to win its second consecutive Elektra Award for the VentoFlex lighting system. VCC's VentoFlex lighting system took home the LED Lighting Product of the Year award, beating category finalists Samsung and NXP Semiconductors. This lighting system is bending the rules of what's possible in design — and the electronics industry is taking note. With flexible copper clad laminate (FCCL) sheets with 90 CRI Luxeon LEDs, VentoFlex delivers:
Flexibility – the 12" x 12" modular LED tiles bend to well beyond 90 degrees, even around hard edges.
Customization – vertical and horizontal tile options provide countless configurations that can be created with scissors, shears, or a box cutter.
Convenience – tool-less mounting and modular connections empower designers to connect up to ten tiles with a single driver.
Countless possibilities – VentoFlex's flat footprint of only 0.15 (3.81 mm) allow tiles to be mounted to any surface with ease.
Superior output and quality – with a Color Rendering Index (CRI) of 90, VentoFlex outshines the competition's CRI of 85 while providing 691 lumens per sheet (964 more than available alternatives).