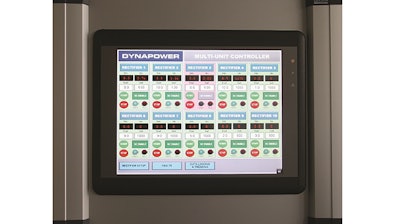 The Multi-Unit Touchscreen Controller from Dynapower (South Burlington, VT) can control up to ten Dynapower SCR rectifier or SMPS units. Features include:
User friendly recipe creation. Create and store custom recipes to suit any process, saving both time and labor. Recipe steps include ramp, dwell, pulse, amp-hour and cycle functions. Review and download for record keeping and audit compliance.
Easy retrofitting. The Multi-Unit Touchscreen Controller can be easily retrofitted to existing Dynapower SCR rectifiers and SMPS units or integrated into new units.
Data collection. Unbeatable consistency and data collection ensures your process is completed the same way every time and properly logged for reporting.
Intuitive display. With a graphic user display and touchscreen controls, view and interact with any status indications, controller setup and special operating modes, faster than ever before.
Flexibility. The touchscreen comes built into a standard remote console allowing for flexible controller placement. Custom control placement options are available on request.
Reliability. With the remote console's NEMA 4X rating, the touchscreen is built to last.
www.dynapower.com; 888-525-7533