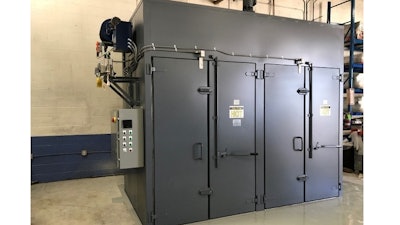 Benko Products, Inc. (Sheffield Village, OH) has announced the shipment of a custom Dryer/Curing Oven to an electrical transformer manufacturer in Middlefield, OH. Unique features of this custom dryer oven included:
Uni-flow air flow.
Temperature uniformity of ±10˚F.
Touch screen display.
Date & Time function for shut-off at end of cycle.
Fume extracting fan automated at door open/close.
Sensor break recovery.
In the event of a sensor failure, the temperature controller will switch instantaneously to the alternative thermocouple thus allowing the process to complete and avoid lost cure cycle.
Standard Sahara Ovens are also available for quick delivery and are available as either gas fired or electric heated in three temperature ranges, 350˚F up to 800˚F.
www.benkoproducts.com; 440-934-2180