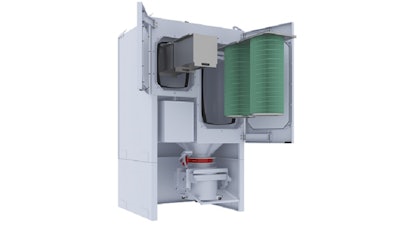 Pharmaceutical processing facilities that produce high concentrations of fine, hazardous, combustible and nuisance dust need an industrial dust collector that is cost effective to operate and easy to maintain on the plant floor or in production suites. The Quad Pulse Package 2 (QPP2) dust collector from Camfil Air Pollution Control (APC; Jonesboro, AR) has two main filter cartridges designed for 590-1765 cubic-feet-per-minute air volumes to increase filtration capacity. The QPP2 also features a cleanable filter system that allows manufacturers to run continuous production processes and avoid frequent, expensive filter replacements. The QPP2 is designed for pharmaceutical oral solid dosage applications including tableting, filling, coating, granulating, drying, mixing, blending, packaging and central vacuum. It also:
Cleans filters in four segments, one at a time, so that they are continually cleaned without interrupting airflow. The primary filters provide excellent filtration efficiency and remove the majority of collected dust. This design prolongs the service life of the second- stage HEPA filter, which provides 99.995% filtration efficiency to capture the finest, most hazardous dust particles. The HEPA filter is also a tested flame and contamination barrier.
Provides explosion protection in accordance with NFPA and ATEX standards. The pressure shock resistant housing maintains its integrity with no damage during an explosion event. The QPP2 can safely contain an explosion event without the need for additional safety devices, and it can be safely installed indoors close to the processing area.
Uses a bag-in/bag-out (BIBO) system to protect workers and prevent cross-contamination. The BIBO system provides full dust containment to ensure safe change-out at the primary filter, HEPA filter and dust discharge stages. Because the compact QPP2 can be installed indoors, it reduces the need for long duct runs and enables easy access to the unit.
www.camfilapc.com; 800-479-6801