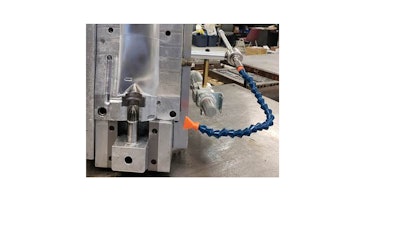 In more ways than one, custom injection molding is a hot industry. It's a competitive market, with a wide array of industries that demand injection molded components, each requiring a different approach to design, tooling, production and quality. There's also the fact that molding plastic components requires the injection of molten materials at very high temperatures.
When that heat goes unchecked it can warp injection molds, ruining tools and creating off-spec parts. It's an expensive problem, as replacing molds can cost thousands of dollars. Fortunately, the fix doesn't have to be so costly.
Novation Industries is no stranger to custom injection molding; they've been in the industry for five decades. When a protoype mold overheated recently, Tool Room Manager Broc Ungaro was able to reduce the temperature in process rather than rebuild the mold by using vortex tubes from ITW Vortec (Cincinnati, OH).
Melting Molds
The part in question was a prototype mold that had been in production for 30 years and didn't have access to water for cooling. The steel temperature was getting up to 290˚F after a few shots, overheating a thin section and causing a void in the single cavity part.
Ungaro could have modified or rebuilt the 12 – 20" glass filled nylon mold so that water could be used to cool the particular area, but the process would have cost several thousands of dollars using the 55-710-ton machine — too costly for Novation, and not cost effective for the customer. He used a cold air gun he had in the tool room to lower the temperature down to 140˚F on the particular area that was overheating. It worked, but he needed a more permanent solution. Fortunately, he knew right where to look.
Ungaro had previously used vortex tubes on similar molds that were old or uniquely designed such that they didn't provide access to water. The tubes require no electrical connection or water at the cooling site, and their compact size (6-13 inches) made them perfect for cooling even the most oddly designed molds Novation works with.
He found Vortec online and purchased two 308-35-H tubes, costing him less than $500—a fraction of what rebuilding or modifying the mold would have cost.
"It's worked well for us," said Ungaro. "We're going to be placing an order for more in the next few weeks and we're also looking at applications for the other cooling technologies that they have for some of our other problematic jobs."
Cooling, Out of Thin Air
Using only a compressed air line, Vortec vortex tubes use vortex technology to provide spot cooling with no movable parts. Compressed air is forced through a generation chamber, which spins the air at a high rate of speed (1,000,000 rpm) into a vortex. The high-speed air heats up as it spins along the inner walls of the tube toward the control valve, where a percentage of hot, high air speed is permitted to exit at the valve.
The remainder of the now slower stream is forced to counter flow up through the center of the high-speed air stream into a second vortex. This slower moving air gives off energy and cools as it spins up the tube. The now chilled air passes through the center of the generation chamber, finally exiting through the tube into mold as extremely cold air.
Vortex tubes cool instantly, and produce up to 6000 BTU/hr of refrigeration and temperatures as low as -40˚F. Cooling can be adjusted via the hot end valve of the vortex tube.
Using no movable parts, refrigerants or chemicals, Vortex Tubes provide the lowest cost per unit of refrigeration, and lowest maintenance requirements of any refrigeration technique, making them a cost-effective solution for Ungaro and his team at Novation.
Solutions that Stick
In addition to the two Vortec vortex tubes, Ungaro purchased two magnetic bases to provide versatility to reposition the tubes onsite. The magnetic base saved him the cost of fabricating a mounting bracket and machining the tool to mount to it, and allows him to use the tubes on other molds and jobs, which he has done. He also appreciates the stability the magnetic base provides.
"A lot of the magnetic bases for machining flop around and aren't secured enough. This base is really solid," he said.
The total cost for the tubes and magnetic bases was less than $650, saving Ungaro and his team thousands of dollars, not to mention material and time. The Vortec vortex tubes were "set it and forget it"— the only adjustment he's made is to change the hose location. Ungaro now has a solution to fix similar molds that come into the shop. His customer was happy to not have to replace the mold all together and was able to get back to injecting as soon as possible.
"Coming up with a cost-effective solution for the customer shows that we are a partnership working on making each other a better more profitable company," Ungaro said.
Vortex technology cools where water can't, and for Novation Industries, the compact tubes provide a cost effective and easy to apply solution to a hot problem.
www.vortec.com; 800-441-7475