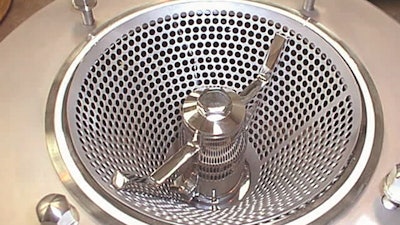 Kason Kek-Gardner
A new Kason Kek-Gardner (Millburn, NJ) Model CM540 Sanitary Cone Mill delivers gentle, low-energy size reduction while achieving even particle distribution with minimal fines. It is suitable for de-lumping of dried or hygroscopic materials that have agglomerated due to dampness or compaction, for intermediate sizing of wet mass product for improved drying and granulation prior to tableting, and for regrinding of out-of-spec tablets to be reintroduced to the tableting process. Additional features include:
Smooth, moderate action that alleviates traditional milling problems of product build-up, dust, and heat generation, enabling it to process fatty, heat sensitive, sticky, moist or fragile products.
A design intended for pharmaceutical, food, and chemical applications in which contamination must be avoided.
Material fed via gravity or pneumatically into a central milling chamber in which a rotating impeller accelerates it centrifugally against and through apertures in a conical screen, and then into a receptacle below the milling chamber.
Conical screens that can be changed rapidly, and are offered with apertures from 150 micron for fine/dry de-agglomeration, up to 25 mm including square and rectangular perforations for wet granulation.
A #304 or #316 stainless steel construction.
Available configured for CIP, SIP, or filling with liquid during cleaning.
For more information, visit www.kasonkekgardner.com or call 973-467-8140.