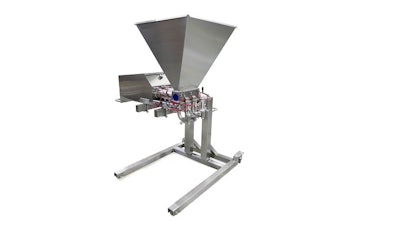 Unifiller Systems (Delta, BC, Canada), a subsidiary of the Linxis Group of Companies, introduces the M3 Depositor, which is designed for industrial food manufacturers looking to optimize their production systems.
Unifiller's M3 Depositor is compatible with triple lane production systems, ideal for working over vacuum form, fill and tray sealing lines. Used for clean depositing of relatively viscous to liquid products, with or without chunks, the M3 features adjustable nozzles to meet any configuration. Use the M3 as a standalone machine or integrate it into an advanced production line for applications including batters, fruit fillings, sauces, delicate mousse fillings, salad dressings, soups and deli salads.
According to the company, automation can assist in ensuring food waste is minimized and ingredients handling is optimized, as things like factual ingredient labelling is driven partly by accurate portion depositing and ingredient management.
www.unifiller.com, 604-940-2233