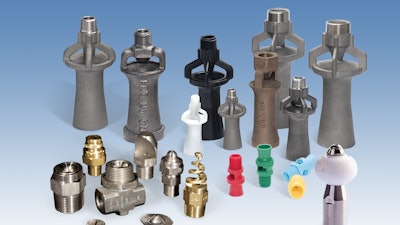 BEX, Inc. (Ann Arbor, MI) will display eductors for tank mixing, and spray nozzles for cleaning parts and equipment at Fabtech 2018, booth #B5508. Specifically:
BEX eductors have a unique venturi design that enables smaller pumps to circulate large volumes of solution. BEX eductors take advantage of the surrounding liquid to create a high velocity flow yield at the diffuser, so they circulate up to 5X the pump output – with a discharge plume broader than the jet from a solid stream nozzle of equivalent energy. BEX eductors with ¼" to 3" ports discharge up to 1410 gpm at 50 psi. Plus, BEX eductors mix and agitate without introducing air, steam, or contaminants into the solution.

The BEX modular K-Ball Clip-on spray nozzle series includes hundreds of combinations of nozzle options that deliver the right spray pattern for every parts cleaning, pretreatment, spray washing and rinsing application.

K-Ball threaded body adjusts spray direction with a twist of the cap. When used with Zip-Tips, nozzle orientation locks down, even while exchanging nozzle tips.

Heavy service clip is good to 100psi (200psi with 2 clips) at 175oF.
Fabtech will be held Nov. 6-8 at the Georgia World Congress Center in Atlanta, GA.
www.bex.com; 734-389-0464