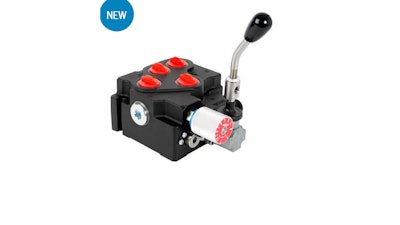 The CV120 valve from Webtec (Milwaukee, WI) is a compact valve where a variable priority flow divider is combined with a directional control valve in one body. This reduces both cost and size by reducing the required number of hoses and fittings and allows for a more compact installation. Benefits include the following:
Maximum Operating Pressure:

3,600 psi

Total Flow Capacity: 32 GPM

Regulated Flow Capacity: 0 - 25 GPM

Porting:

1-1/16 UNF or 3/4" BSPP

Material: Steel components in cast iron body; aluminum knob
Weight: 19.5 lbs
A clearly marked single-turn hand dial permits fast visual adjustments to pre-determined 'Priority' flow.
www.webtec.com; 800-932-8378