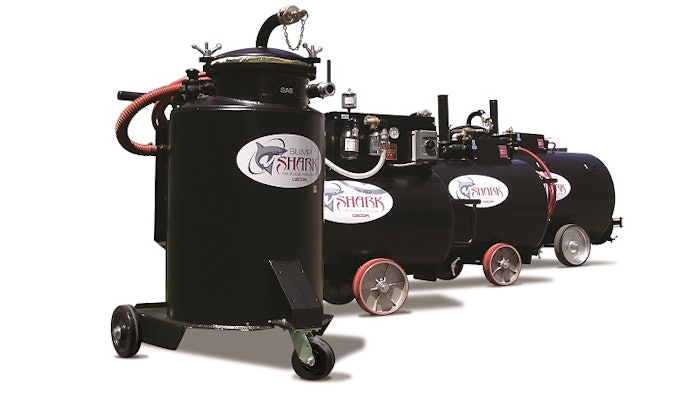 CECOR (Belleville, WI) will be exhibiting at booth 121023 during the International Manufacturing Technology Show (IMTS), set to take place in Chicago, September 10-15. The company will have live demonstrations of its Sump Shark sump cleaners as well as a wide range of heavy duty industrial carts designed for the machine tool industry. Demonstrations will include the following:
The SE15 (single phase electric) model, pumping 30 gallons of sludge and fluid in 30 seconds, and returning the filtered material back into the sump within another 30 seconds. Sump cleaners like this ensure sump cleaning gets done with ease and efficiency, making the pail and shovel a thing of the past.
Heavy duty industrial carts, which are a pivotal part in the sump cleaning process. All of the metal chips must go somewhere –and carts are the answer. Stop by the booth to see CECOR's carts ranging in size from a lip height of 12" off the ground to 40" off the ground. CECOR is known for having carts that can hold large volumes of material, while taking up much less space than their competitors.
See the products at IMTS booth #121023.
www.cecor.net; 800-356-9042