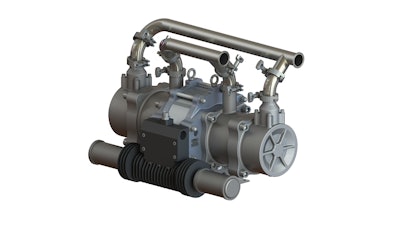 Carlisle Fluid Technologies (Toledo, OH) has announced the launch of two new Binks Maple models: Maple 120/3 (ratio 3:1) and Maple 15/25 (ratio 25:1).
The new Binks Maple 15/25 Pump is designed to be a workhorse in the wood and heavy equipment markets. Typical uses include flatline and other multi-gun installations, where the Maple can keep pace with production, consistently delivering up to 2 gal / 7.5l / minute.

The pumps are designed for difficult moisture-sensitive and slightly abrasive materials and uses the proven Binks bellows technology and coated pistons, to ensure minimal maintenance is required, says the company. The pumps combine an energy efficient air motor and a fluid section that has no exterior leaking seals providing a long operational life.
www.Carlisleft.com, 419-470-2000