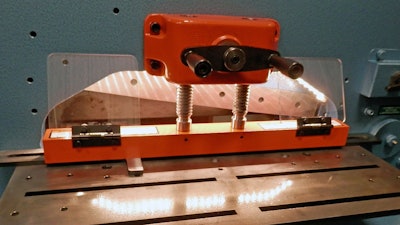 Scotchman Industries (Philip, SD) has released 3 new options now available for current ironworker models. Designed to make Scotchman hydraulic ironworkers more efficient and user friendly, these features include:
New LED work lights. Light up your Scotchman ironworker with new, low profile LED work lights. Available on all current models located in several workstations.
Jog Motor Control Now Available on Scotchman 50-Ton Ironworker. Increase precision when setting the stroke control on your 50-ton Scotchman ironworker by adding this jog motor control to your new machine. This feature is especially helpful aligning and positioning tools accurately and while doing regular machine maintenance.
New Scotchman Snap Ring Removal Tool.

The Scotchman engineering team has designed another winner -- the new Scotchman Snap Ring Removal Tool for #20 punches. Makes an otherwise tedious task fast and easy. Sold separately or included with the purchase of a #20 Punch and Die Package.
www.scotchman.com; 800-843-8844