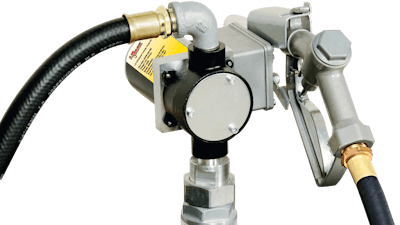 Lumax
The LX-1375 from Lumax (Fort Mill, SC) is a smooth operating diesel transfer pump kit. Features include:
A high strength cast-iron construction.

A lightweight and compact design ideal for transferring diesel, light oils and kerosene.

A self-priming pump with direct transmission and inner recirculation that works to extend the pump life and prevents over-pressurization.

Continuous 30-minute duty cycle and self-priming mechanism prevent premature motor and pump damage due to dry operation.

A 3,600 RPM, 12 VDC motor efficiently transfers 8 gallons per minute (30L/minute).

The working pressure is 14.5 PSI (1 Bar).

A bypass valve for motor protection.

Strong seals for leak protection.

A 3/4" aluminum nozzle.

A 13 ft. fuel hose.

A 6-1/2 ft. battery cable with clamps is included for user convenience.

A 2" threaded bung coupling barrel or tank mounting is also included with the pump.

Not to be used for dispensing gasoline, alcohol, waste vegetable oil or biodiesel fuels.
For more information, visit: www.lumax.com.