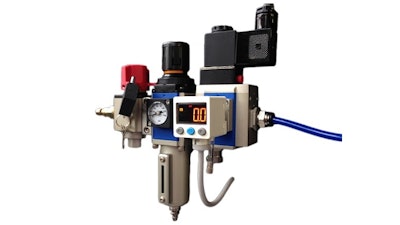 Bimba Manufacturing
Bimba Manufacturing Company (University Park, IL), and its subsidiary Mead Fluid Dynamics (MFD), today announced the addition of Digital Pressure Switches (DPS Series) to its line of high-value air preparation equipment.
This compact series displays system pressure on an integrated LCD and emits dual programmable output signals.
Designed for use with MFD air preparation equipment, the digital pressure switches also transmit analog pressure data directly to the control system.
For more information, visit https://www.bimba.com/en/Products-and-Cad/Air-Preparation/Inch/Accessories/Global-Series/Digital-Pressure-Switch.