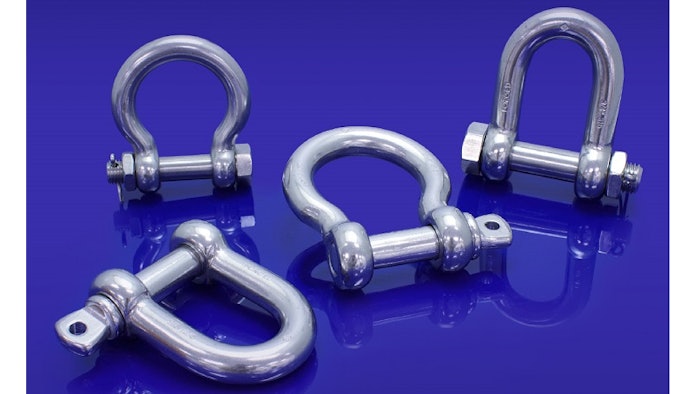 Suncor Stainless Inc. (Plymouth, MA) announces the launch of a new line of Forged Shackles. These new shackles are forged, resulting in better fatigue strength for a longer product life, a higher strength due to the manufacturing process and a harder material for better wear.
The new line of Forged Shackles is made from grade 316 stainless steel for maximum corrosion resistance and durability, making it ideal for even the harshest marine and industrial environments. Forged Shackles are suitable for lifting, if the specified working load limits (WLLs) are strictly adhered to. Additionally:
The WLLs for the Forged Shackle Series range from 500 lbs. to 5,500 lbs. (227 kg – 2,495 kg).

With matching shackle body and pin diameters for a uniform design, the new shackles give you the option to choose from two shackle body styles: Forged Bow Shackle Body or "D" Shape Shackle Body, and two pin types; Forged precision threaded Screw Pin or a Bolt with Nut and Cotter Pin.

Shackles range in size from 3/16" to 3/4"and are great for general use in applications where stainless steel is desired.