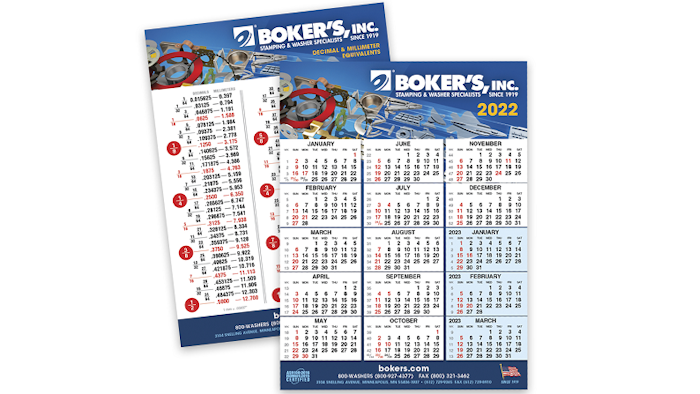 Boker's Inc. (Minneapolis, MN) announces the availability of its 2022 scheduling calendar – a convenient, easy-to-use tool designed with features for production managers, schedulers, purchasing teams and design engineers.                                
Available by request, this calendar provides a comprehensive, at-a-glance view of the 65-week scheduling period inclusive of January 2022 through March 2023, including Sundays and major holidays that are boldly identified in red. Understanding the needs of their customers, Boker's has also included a fast and convenient metric conversion chart on the reverse side that features decimal and millimeter equivalents for common measurements, ranging from 1/64" to 1" and .1 mm to 100 mm.                             
Serving companies on the forefront of technology innovation, the Boker's dual-sided calendar and conversion chart will help customers specify what they need for their particular application from the company's growing inventory of more than 32,000 non-standard flat washer tool sizes; including 369 new sizes.                                             
With a comprehensive range of sizes available, including outside diameters from 0.080" to 5.140", and a wide variety of inside diameters, thicknesses and materials, Boker's is able to deliver precision components that meet the unique characteristics and demands of every industry and emerging market worldwide.        
www.bokers.com, 800-927-4377