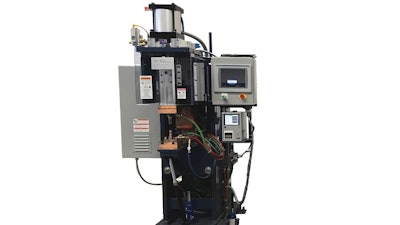 Weld Systems Integrators, Inc (WSI; Warrensville Heights, OH) has announced the newest Mid-Frequency Direct Current (MFDC) Press Type Resistance Welder. This new addition to the WSI Product Line incorporates a Fast Rise Time (FRT) MFDC transformer and is ideal for welding applications requiring short weld times and high welding current. FRT-MFDC welders offer the following benefits:
Reduced life cycle cost.

Better process control for welding coated parts.

Weld nugget management.

Minimized heat affected zone (HAZ).

Lower primary power requirements.
WSI designs, engineers, and manufactures its FRT-MFDC resistance welding equipment in the United States using domestically-sourced components. This enhances serviceability and support by eliminating delays in parts and repairs.
www.WSIWeld.com, 844-WSI-WELD