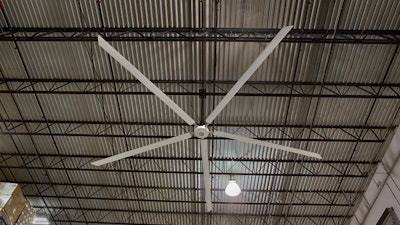 Hunter Industrial Fans, the industrial division of Hunter Fan Company (Nashville, TN), debuts a lifetime warranty policy for all of its HVLS industrial fan lines. Hunter Industrial is the only HVLS fan company to offer a lifetime warranty policy on all of its HVLS products. The new lifetime warranty policy is effective as of January 1, 2021, and allows customers to work directly with Hunter Industrial on a return, repair or replacement. Specifically:
Hunter Industrial fan lines include the

Titan

,

Eco

and

XP

, along with

network-capable controls

for its HVLS fan lines. Purposefully designed for the user, each Hunter Industrial controller is a highly intuitive touchscreen that incorporates a "plug and play" design and allows for a hassle-free installation.

In 2020, Hunter Industrial extended its catalog of commercial fan lines with the launch of the

Trak

, a ceiling fan designed and engineered with a commercial grade motor and extruded aluminum blades for a long lifespan and optimal airflow.

Completing its list of fan lines is Hunter Industrial's

Jan Fan

products. These fans easily assemble and feature various mounting options, making the fans an ideal solution for indoor and outdoor settings. The fans range in sizes from 12 to 30 inches and feature an energy-saving module.