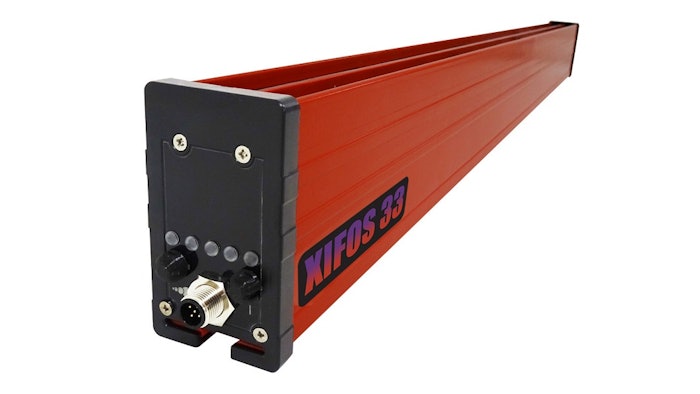 TAKK Industries
TAKK Industries (Cleves, OH) introduced the XIFOS 33, a high-power static eliminator with effectiveness across the full length of the bar – no dead zones.
Software algorithms control all of the operating parameters of the static control bar. The ionizing bar senses changes in the process situation and generates the necessary static neutralizing field.
The XIFOS 33 controls:
Duty cycles
Frequency
HV level
Polarity
Additional features include: 
Bi-color LED status indicators that show operating mode and a Clean Me alert.
Shockless, replaceable tungsten emitters for long life.
Four quick-to-set distance-to-target and frequency ranges.
XIFOS reacts to the actual polarity and charge level on the product to achieve the fastest neutralization possible.
This adaptive-intelligence Static Control bar has a neutralization range from as close as 10 inches to a full 60 inches. The 24-volt DC input drives 33kV-output power supply integrated into the bar.
The XIFOS 33 senses and adapts, delivering what is needed to neutralize the static electricity present.
The XIFOS 33 is warrantied for two years.