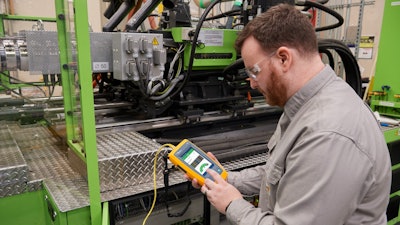 Fluke Networks (Everett, WA) introduces the LinkIQ-IE Cable+Network Industrial Ethernet Tester designed to troubleshoot network cabling, the leading cause of Industrial Ethernet failures. With Ethernet-based technologies increasingly the default for automation networks, the need for easy-to-use tools to troubleshoot these networks is growing rapidly. By combining Fluke Networks' state-of-the-art cable measurement technology and basic tests for Industrial Ethernet switches, LinkIQ-IE speeds and simplifies the discovery of network failures in a simple to use touchscreen interface, akin to a smartphone.
The LinkIQ-IE is based on a single-test approach that automatically provides the appropriate measurements based on what's at the other end of the cable. For an open cable, it shows the length and pairing. If it's terminated with the supplied remote, the test result shows the maximum data rate the cable can support – up to 10 Gb/s. If the cable is connected to a switch port, LinkIQ-IE shows the name of the switch plus the port name, speed, and duplex. If PoE is advertised, it will display the power and class (up to 90 W or Class 8) and then load the switch to verify the power can be delivered.
The LinkIQ-IE features an RJ-45 type connector and includes cabling and adapters simplifying connection to M12-D, M12-X, and M8-D connectors commonly used in industrial applications.
www.flukenetworks.com, 800-283-5853