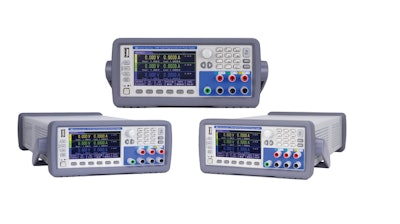 Global Specialties (Yorba Linda, CA) introduces its Performance Series of Triple Output Power Supplies. The series features three new linear triple output power supplies with fully programmable isolated outputs which can be adjusted independently or combined in series or parallel for higher voltage or current. Each model offers variable voltage and current on two channels, with the third channel output rated at 6 volts & 5 amps. Details include the following:
Each front panel has a bright 4.3 inch TFT LCD which displays all three outputs simultaneously and a USB connector for easy access to firmware updates.
There are both convenient cursor keys and a rotary control knob for precise voltage and current settings. Using the keypad, menu soft keys, output controls, and lock function, you are in full control of your power needs.
The rear panel offers output terminals for remote sense. Connect to a PC through either an RS-232 or USB connector using standard SCPI communication protocols.
Each model offers timer-controlled output function, constant voltage (CV) and constant current (CC) modes, as well as memory to store and recall up to 40 instrument settings. The series features both overvoltage (OVP) and overcurrent (OCP) protections.
www.globalspecialties.com; 800-572-1028