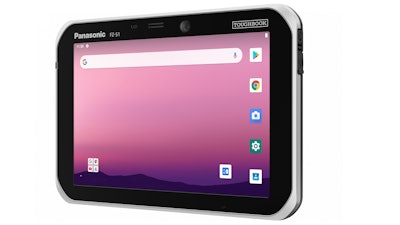 Panasonic
Panasonic (Newark, NJ) has announced the launch of the TOUGHBOOK S1, a 7-inch Android tablet.
The device is supported by productivity+, a comprehensive Android ecosystem.
The TOUGHBOOK S1 is made for portability and reliability for workers who move from place. It possesses a 14-hour battery life and warm swap battery.
Featuring a high-powered long-term chipset, the TOUGHBOOK S1 enables both landscape and portrait modes. Screen visibility and touch are not an issue for workers in challenging outdoor environments with its sleek outdoor-readable anti-reflection screen, patented rain mode and multi-touch performance whether using a stylus, finger or glove. The back of the device is designed with an ergonomic grip to support ease of use.
An optional barcode reader provides workers with integrated barcode scanning options in landscape or portrait modes. Other optional accessories include an extended life battery pack and a second USB-A port for added functionality.
Features include the following:
Qualcomm Octa-core SDM660 Chipset 2.2Ghz
MIL-STD-810H certified and 1.5m (5') drop onto concrete
4GB Memory 64GB Storage
13 MP Rear Camera
Extended-life battery rated at 5580 mAh
Optional USB-A host
IP65/67 dust & water resistance
Able to operate in extreme cold, -20°C (-4°F) and extreme heat, 50°C (122°F)
Built-in NFC
LTE and GPS availability