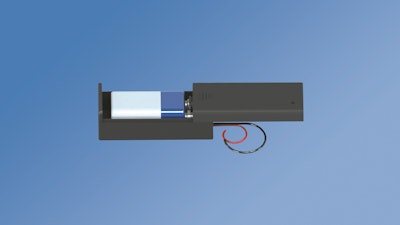 Keystone Electronics (New Hyde Park, NY) has added a New Densi-Pak, 9V Covered Battery Holder to its Densi-Pak series of battery holders. Featuring a pre-wired enclosure designed for versatility, this 9V holder can easily be placed in any device on or off PC boards; between components, cards and anywhere where space is limited; and wherever is more convenient for users to change batteries. Other benefits include the following:
This high performance 9 Volt Battery Holder is made of ABS Plastic with Brass, Nickel-Plated contacts for a reliable, low contact resistance battery connection.
The Densi-Pak snap-on cover design protects and secures the battery within the compartment to prevent shorting or damage.
The holder is supplied with 6" long #26 AWG tinned and snipped wire leads for simplified installation.
www.keyelco.com; 800-221-5510