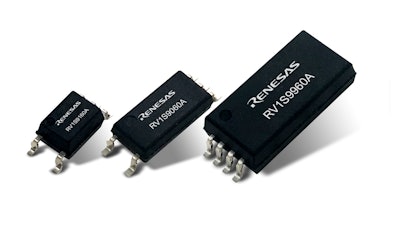 Renesas Electronics Corporation (Milpitas, CA) has announced three new 15 Mbps photocouplers designed to withstand the harsh operating environments of industrial and factory automation equipment. The trend toward higher voltage, compact systems is driving stricter International safety standards and eco-friendly solutions that require smaller ICs with lower power consumption. The RV1S9x60A family meets this need with best-in-class low threshold input current (IFHL) ratings: the RV1S9160A (SO5) operates at 2.0mA, the RV1S9060A (LSO5) at 2.2mA, and the RV1S9960A (LSDIP8) at 3.8mA.
Lower power consumption allows the RV1S9x60A photocouplers to meaningfully suppress power supply heat generation. And high temperature operation up to 125°C enables board space savings by mounting the photocoupler near the IGBT or MOSFET power device. The devices are targeted at DC to AC power inverters, AC servo motors, programmable logic controllers (PLCs), robotic arms, solar and wind input power conditioners, and battery management systems for energy storage and charging. Key features include:
Low voltage power supply operation of 2.7V to 5.5V.
Isolation voltage: 3750 Vrms (RV1S9160A), 5000 Vrms (RV1S9060A), and 7500 Vrms (RV1S9960A).
High temperature operation from -40°C to +125°C (RV1S9160A and RV1S9060A), and from -40°C to +110°C (RV1S9960A).
Supply current of 2.0mA max.
Low pulse width distortion at 20ns max.
Propagation delay of 60ns max; and propagation delay skew of 25ns max.
www.renesas.com; 408-546-3402