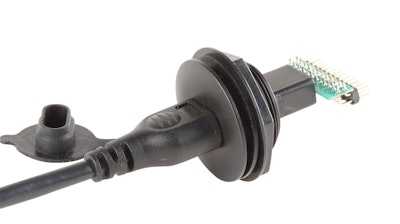 OCP Group Inc. (San Diego, CA) has announced the latest addition to a growing family of USB 3.0/3.1 external Cable Assemblies with compatible Panel Mount Assemblies. These positive retention "Press Fit" assemblies feature a waterproof connection up to 1 meter with a withdrawal force of 8N and 30V DC with up to 10Gbps rated signal. They are ideally suited for industrial, outdoor or marine applications. Specifically:
They can be custom tooled for unique applications requiring wearable or portable power. A growing interest in the Medical Device market the Video transmission properties of USB 3.0 has also inspired several ISO 10993 Biocompatible configurations of the product.
One version of the product is also form fit compatible with the Amphenol LTW "Swift-LA" receptacle. The USB 3.1 Standard offers users transfer rates of up to 10Gbs with backward compatibility to the USB 3.0 and 2.0 specifications.
The new type "C" connector can be plugged in either direction due to its elegantly simple redundant design.
High quality materials, including gold plated contact pins and UL VW-1 flame rated cable, ensure wide compatibility while reliably delivering the high-speed transfer rate specified in the new USB 3.1 standard.
www.ocp.com; 800-903-7816