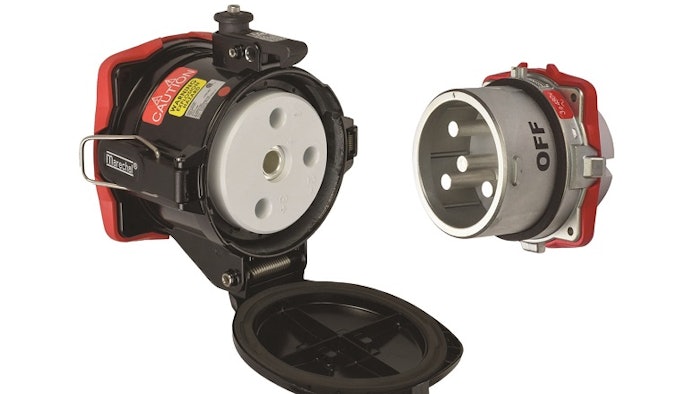 MELTRIC (Franklin, WI) has announced a major expansion of its hazardous location devices. Adding 13 cCSAus rated plugs and receptacles, the new MELTRIC products are Class 1, Zone 2, Division 2 versions of the DS, DSN, DR and DSDC product line.These plugs and receptacles boast higher amperage than other hazardous location products. Eight of the new MELTRIC devices can be used at 600 volts with pilot contacts; the DSN and DS line include motor circuit HP ratings. DS and DR devices range from 20-250A, 600 VAC, while DSDCs range from 20-200A, 250VDC.
A rating that meets Class 1, Zone 2, Division 2 requirements for flammable gases, vapors and liquids.
A standard Type 4X environmental rating.
MELTRIC's spring-loaded, silver-nickel, butt-style contacts, built to withstand harsh, corrosive environments, while delivering exceptional performance and reliability. 
Black, heavy-duty poly or metal casings and accessories, providing visual differentiation between these hazardous location plugs and receptacles and standard devices.
Not intended to be connected or disconnected under load, screw-type locking pawls provide security against accidental disconnection. Receptacles include standard lockout holes for easy NFPA 70E lockout/tagout compliance.

www.meltric.com; 800-824-4031