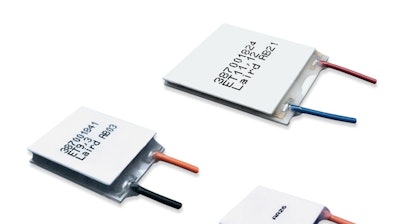 Laird
Laird (North Carolina) has expanded its thermoelectric module (TEM) product family to protect critical electronic devices in emerging applications found in high temperature environments. The HiTemp ET Series features:
Spot cooling to ensure max temp of device is not exceeded in ambient environments.

Applicability in outdoor environments with a max temp of 60°~70°C.

53 available models with a range of heat pumping capacities, geometric form factors and various input voltages to cover the a range of applications.

An enhanced construction that prevents copper diffusion, which commonly occurs in higher temperature environments and prevents degradation in their performance.

A high coefficient of performance (COP) to allow for maximum heat rejection into air environment even with poor heat sinking.
For more information, visit https://www.lairdtech.com/products/et-series-thermoelectric-modules