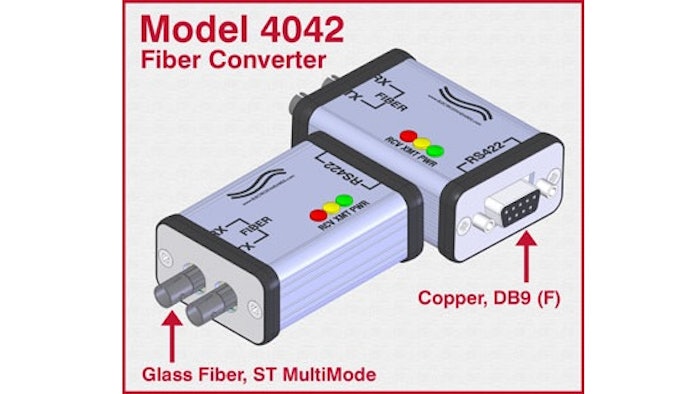 Electro Standards Laboratories
Electro Standards Laboratories (ESL) (Cranston, RI) has designed the Model 4042, a high speed, ruggedized, ST Fiber to RS422 Interface Converter. The model provides a compact, lightweight industrial solution for applications requiring a single point-to-point or a communications link over short and long distances. The Model 4042 features:
The ability to convert ST Duplex Fiber to Copper RS422 DB9 (F) port.
Supports constructing an optically isolated high speed communication link between connected devices. 
Operating speeds up to 5 Mbps for RS422 to fiber conversion. 
Configured for 4-wire full duplex operation when operating in RS422 mode. 
Applicability in PC to PC long distance communications, factory automation, data collection devices, barcode readers, time clocks, scales, data entry terminals, ATM's and serial communications in harsh environments.
An operating temperature range from -40°C to +85°C.
ESD protection circuitry on the RS422 copper interface.  
Full galvanic isolation (no metallic connection) between connected devices. 
Power input protected from transients, as well as, over voltage and over current. 
Converter powered from a +5V power supply or a +28V power supply via DB9 connector. 
For more information, visit: http://www.electrostandards.com/ProductDetail/?productid=2558; or call 401-943-1164.