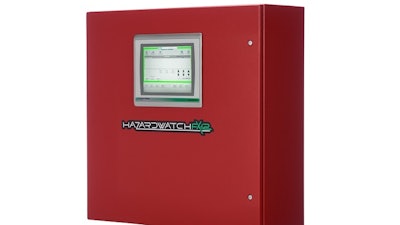 Process and safety engineers who need a full-featured fire and gas system with built-in cloud-ready capabilities will find the advanced, next-gen HazardWatch FX-12 Fire & Gas System from MSA Safety (Cranberry Township, PA) delivers peace-of-mind and security when it comes to reliable plant safety monitoring.
The new HazardWatch FX-12 Fire and Gas System combines the proven expertise of the industry's leaders in safety and automation. Developed with MSA's detection and systems integration expertise, as well as the process control/automation proficiency of Rockwell Automation, the HazardWatch FX-12 System is a powerful and flexible total safety solution designed to protect people, equipment, facilities and nearby communities.
Designed for use in hazardous industries, the HazardWatch FX-12 System is ideal for oil/gas production and tanker loading/unloading, petrochemical refining and storage, pipelines and gas compressor stations, LNG facilities, CNG and hydrogen (H2) production and vehicle terminals, electric power generation, aircraft maintenance facilities, aerospace launch sites, automotive, and pharmaceutical manufacturing.