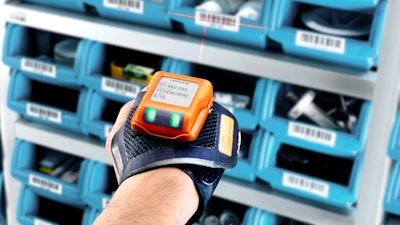 ProGlove (Chicago, IL) recently unveiled their MARK Display wearable scanner and ProGlove Cloud analytics offering. Features of the matchbox-sized display, which mounts on the back of the hand, include:
A high contrast, non-reflective display.
An acoustic and haptic feedback mechanism that helps provide quicker scanning and, according to the company, can reduce error rates by up to 33 percent.
The BLE-enabled, cloud-connected scanner allows for obtaining immediate results across the supply chain in real time and can be integrated with existing ERP and WMS platforms.