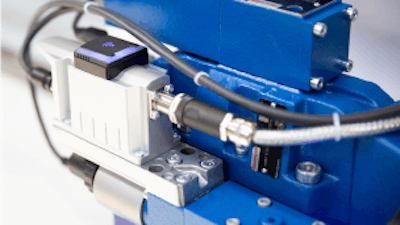 With the newly developed generation of digital on-board electronics for hydraulics, Rexroth (Bethlehem, PA) allows economical scaling between analog components and those with a fieldbus/Ethernet connection. It takes advantage of the economic benefits of digitalization with no additional cabling. The new generation provides the open interfaces Bluetooth and IO-Link. In conjunction with a suitable app, commissioning engineers, operators and service technicians can access components and change parameters using their smartphone – directly and independently of the machine control system.
The first components to feature the new digital on-board electronics are the new proportional pressure regulating valves. In terms of hardware, they offer improvements thanks to volume flow-independent pressure regulation and a linear command value-pressure characteristic curve with four pressure levels. The valves have an integrated pressure sensor as well as a connection for external pressure sensors.
For end users, the new digital on-board electronics significantly increases flexibility for process changes. If for example a tool which is twice as heavy is used on a press, a different valve would often have to be used on previous machines. With the new generation, it is sufficient to bring up the app in order to adjust the parameters accordingly. As a result, the end user can save the money needed for a conversion and the resulting machine downtime is avoided.