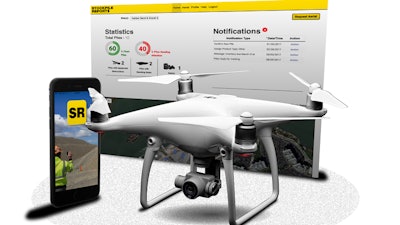 Companies that store materials in bins and stockpiles can now manage inventory for both using a single system. BinMaster (Lincoln, NE) and Stockpile Reports have joined forces to improve material management for companies that demand better control and accuracy of inventory volume and value. The partnership combines the power of robust level sensors with innovative image processing software to optimize and simplify the customer experience across the mining, cement and agricultural industries. The two companies share a vision of integrating inventory from piles and storage bins into a single dashboard accessed from a desktop, tablet or mobile device. The mission is to provide inventory accuracy and transparency to production, purchasing and finance across an entire organization as well as individual production sites. Replacing outdated guesswork, inventory write-offs and bad valuations is the intent of the solution. Features include:
Three patents that super power Stockpile Reports' technology, offering the only pile management solution that can use photos from a cell phone, drone, plane or fixed mounted camera to accurately measure volume.
Dashboards populated with photographs, site statistics and materials reporting vital information on the volume, tonnage and condition risks for each pile.
A SaaS subscription, which not only allows users to track pile inventory on a monthly, weekly or even daily basis — it is the only solution that works from both air and ground cameras.
Proven in storage silos for over 55 years, BinMaster sensors fortify operations with advanced technology such as 3D scanners, non-contact-radar and lasers to measure level and volume. Wireless solutions, digital gateways, convenient consoles and remote inventory management programs complement a robust continuous and point level sensor selection.
www.binmaster.com/products/product/stockpile-reports; 402-434-9102