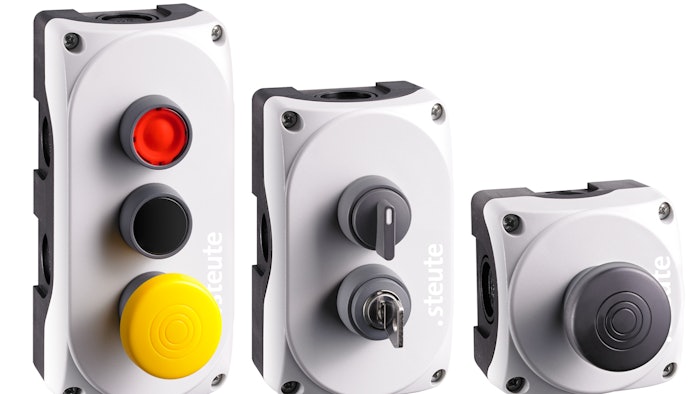 Steute Industrial Controls, Inc. (Ridgefield, CT) offers a wide assortment of wireless pushbutton and selector switches featuring internal electrodynamic energy generator – with no battery required. Actuation sends a unique, coded telegram to one or more compatible, easily-programmed receivers, and the receiver sends confirmation of received telegram. If the pushbutton actuator does not receive the confirmation signal within 15 ms, it transmits a second telegram. The receiver accepts up to 10 discrete telegrams per channel. Features include:
An energy harvesting design (no battery required).
Availability for operation at 915 MHz or 868 MHz.
Pushbuttons provided with six (6) color plates.
Maximum nominal transmisssion range: 195 feet (60 m) indoors, 2,297 feet (700 m) "free air."
Bidirectional communication with receiver.
Switch signal configurable at Receiver (e.g. NO, NC, other).

Ingress protection rating:

 

IP67.
Mechanical life expectancy:

 

> 800,000 actuations.
Operating temperature range: -4° F to 149° F (-20° C to +65° C).
Certifications: FCC, IC (SW915 MHz models), EC (SW868 MHz models).
www.SteuteWireless.com; 203-244-6304