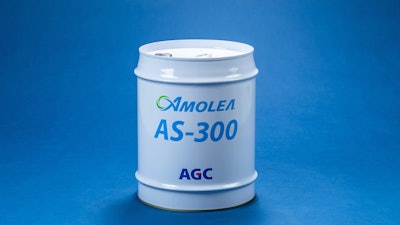 AGC (Exton, PA) has developed new HFCO chemistry to provide manufacturers of high-value industrial components, electronics and medical devices with more environmentally friendly precision cleaning alternatives. AMOLEA AS-300 and AS-300AT solvents are categorized as nonhazardous air pollutants with an ozone depletion potential near zero and global warming potential of less than one. The U.S. Environmental Protection Agency's Significant New Alternatives Policy (SNAP) program lists these solvents as acceptable for electronics cleaning, metals cleaning, precision cleaning and coating diluents.
AMOLEA AS-300 and AS-300AT are ideal replacements for HFC solvents and low-boiling-point HCFO solvents as well as n-propyl bromide (nPB or 1-BP) and trichloroethylene, which are both undergoing risk evaluation under the EPA's Toxic Substances Control Act (TSCA).
AMOLEA AS-300 and AS-300AT HCFO solvents have advantageous boiling points, superior solvency with Kb value of 44 and 118 respectively, and favorable HSE (Health, Safety, Environment) profiles.