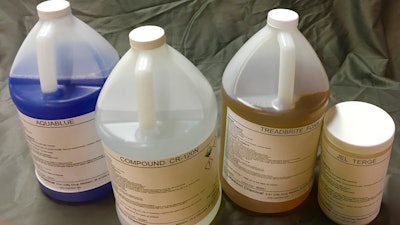 Madison Chemical offers their ReStore Kit, a combination of their cleaning and surface preparation products for metalworking cleaning, surface prep and passivation applications. The kit features:
One gallon of AquaBlue general purpose multi-metal surface cleaner for removing dirt, oil, grease, sulphurized cutting oils or metalworking fluids.
One gallon of TreadBrite Foam acidic cleaner for cleaning and removing heat tint/weld burns from multi-metal surfaces, including stainless steel.
One gallon of CR-120N Nitric Acid cleaner for passivation of stainless steel.
A two-pound container of Jel Terge powdered viscosity enhancer/gel builder.