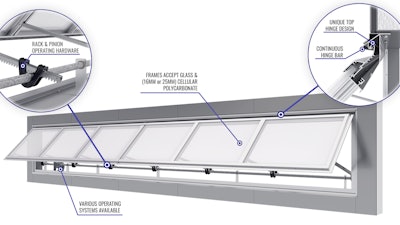 Designed to keep the interior dry during normal rainfall, the TECHVENT 5300 polycarbonate top-hinge window system from EXTECH (Pittsburgh, PA) allows for ventilation even during inclement weather.
EXTECH's TECHVENT 5300 is designed to provide massive natural lighting and ventilation. It is great for new construction projects or retrofit work. The TECHVENT 5300 also integrates well with other EXTECH wall systems. Benefits include the following:
In warm climates, TECHVENT can be used year-round with minimal load on the cooling system.

The TECHVENT can reduce HVAC loads by providing operable ventilation.

It can also reduce electrical loads by providing daylighting and ventilation

.

One major benefit of this system is it can be operated either manually or with an optional electric control system.

It is also available with energy efficient thermally broken framing.
The TECHVENT 5300 is a very versatile system that can be installed in an individual punched opening or in continuous clerestory wings, up to 150' wide. The factory assembled sections feature interlocking vertical mullions for ease of installation.
www.extechinc.com, 800-500-8083