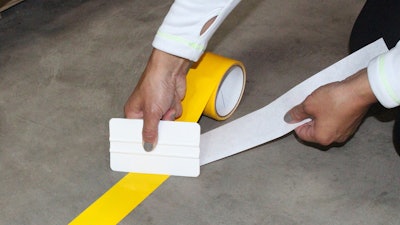 Visual Workplace, Inc. (Byron Center, MI) has introduced Floor-Mark High Performance floor marking tape. Marking floors is an easy and efficient way to direct behavior, promote safety and reinforce workplace standards, but industrial work environments create challenges for traditional tape and paint. Floor-Mark High Performance was designed to withstand tough conditions like high forklift traffic, hand trucks and material handling. Features include:
Extraordinary durability. Its unique "high bond" acrylic pressure sensitive adhesive provides armorlike protection, yet it is flexible enough to conform to uneven surfaces.
An ultra-low profile (14 mil), so vehicles have no problems passing over it -- unlike thicker high-traffic tape products that can also create tripping hazards.
Easy application – just peel and stick.
www.visualworkplaceinc.com; 616-583-9400