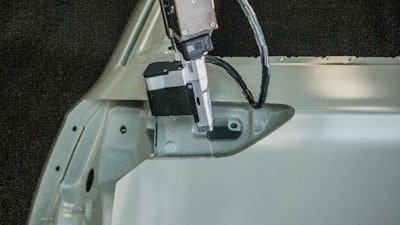 Upstream sealing stations in the car manufacturing painting process are already highly automated. However, sealing is still performed manually for hard-to-reach car body parts. Dürr (Southfield, MI) recently developed a solution to further increase the level of automation and significantly reduce the need for manual intervention. With the new EcoSealJet Pro applicator and improvements in the manufacturing process, maximum precision and consistent quality go hand-in-hand with material savings good for both budgets and the environment.
The new EcoSealJet Pro applicator is designed for use wherever automation previously reached the limits of its capabilities. It's ideal not only for hard-to-access areas, such as in the engine compartment or headlight housings, but also for those areas where automatic PVC application must contend with unusual contours, holes, studs and other obstacles.
The clearance and work angle of the robot-guided applicator can be variably adjusted to easily access difficult body parts. Its needles are activated individually so that the applicator can apply sealant to the body with consistent precision and quality. Each needle can apply the material in jets or individual drops through the application nozzles – the robot speed and the amount of material determine the variable, high-frequency needle activation making the applicator extremely flexible. It can be used for seam geometries of different densities and widths that – without exception – exhibit a border with high edge definition and no overspray.