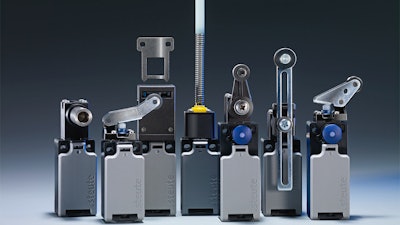 The Automation business unit of steute (Ridgefield, CT) has developed the ES/EM 97 series of position switches with a modular design.
The actuator heads can be easily fastened, replaced or turned in 90o steps with four captive screws. The switching inserts can be removed after opening the screw-free cover – simplifying installation.
With these features, steute aims to make its ES/EM 97 series universally applicable throughout the automation industry. Accordingly, it has a wide range of actuators (various fulcrum levers, roller levers, spring rods) and dimensions to EN 50047, the prevalent standard for automation technology.
The new series can also be used in machine safety applications, i.e. as position switches with safety function. Paired with a suitable receiver, they achieve a safety level in line with Performance Level e to EN ISO 13849-1 and SIL 3 to EN 62061.