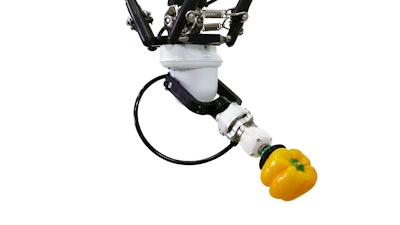 ABB (Cary, NC) is expanding its FlexPicker Delta robot portfolio with the IRB 365. With five axis and 1.5kg payload, the IRB 365 is both flexible and the fastest in its class for reorienting packaged lightweight products such as cookies, chocolates, peppers, candies, small bottles and parcels.
Responding to the rise in e-commerce and growing demand for shelf ready packaged goods, the IRB 365 has been developed for applications including food and beverage, pharmaceuticals and consumer goods, where production line speed and adaptability are essential.
According to ABB, the IRB 365 can pick, reorient and place 1kg products at 120 picks per minute. By handling more products per minute, the IRB 365 robot increases productivity, while saving time and energy to make production more efficient. Powered by the OmniCore C30 controller - the smallest Delta robot controller on the market - the system offers best-in-class motion control, built-in digital connectivity, and 1000+ additional software hardware functions ready to meet future demands and requirements.