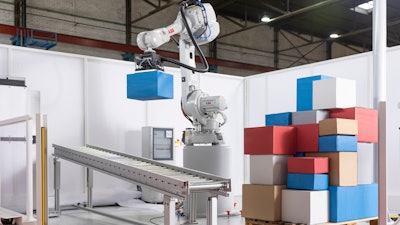 ABB (Cary, NC) has launched the 'ABB Robotic Depalletizer', a solution for handling complex depalletizing tasks in multiple industries. Using machine vision software, ABB's new solution can quickly assess a wide variety of box types, enabling customers to efficiently process assorted loads with very little engineering effort and short set-up time.
Not only are depalletizing tasks growing more complex as the composition and configuration of pallets becomes more varied, but these previously manual sorting jobs are typically characterized by high staff turnover and increased recruitment costs. 'ABB´s Robotic Depalletizer' solves these problems by using advanced machine vision and machine learning algorithms to quickly and efficiently process pallets of up to 2.8m high, the only solution currently capable of operating at these heights. Specifically:
ABB's Robotic Depalletizer software uses the information gathered by the vision sensor to provide the robot with a suitable grasping point for each box.

The robot then picks up the box – weighing up to 30 kg – and places it on either another pallet or an outfeed conveyor.

The speed and accuracy of the system enables it to work at a peak rate of up to 650 cycles per hour, 24 hours a day.
https://new.abb.com/products/robotics/functional-modules/abb-robotic-depalletizer