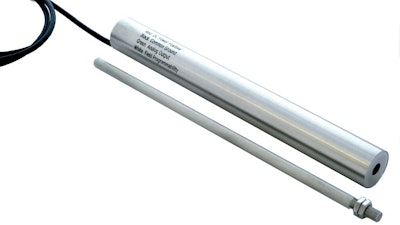 H. G. Schaevitz LLC, Alliance Sensors Group (Moorestown, NJ) has expanded its sensor product offering using LVIT Technology by adding the LZ-19 Series linear position sensors. These are contactless devices designed for use in factory automation or assembly machinery applications where space is a premium, as well as for external mounting on hydraulic cylinders to sense rod position. Specifically:
These LVITs are offered in nominal full-scale ranges from 2.5 to 750 mm (0.100 to 30 inches) with an excellent stroke-to-length ratio so that the sensor's overall length is only about 38 mm (1.5 inches) longer than the linear range of the unit.
The sensor has a 19 mm (3/4 inch) outside diameter aluminum or optional stainless steel body with a 1-m long radial exit cable for I/O connections.
The 6 mm (0.236 inch) diameter through-bore of an LZ-19 provides clearance for its 5.2 mm (0.200 inch) diameter moving rod, which is made of the same material as its housing.
This through-bore feature also means that the sensor is not subject to damage from typical mechanical overstroking.