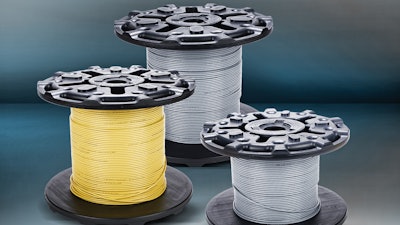 AutomationDirect (Cumming, GA) has announced that flexible multi-conductor sensor/actuator cable is now available in 24 AWG and 22 AWG with 3, 4 or 5 unshielded conductors, and in customer specified one-foot increment lengths. Specifically:
Individual conductors are stranded bare copper for flexibility, with color coded PVC insulation for easy identification.
The cable outer jacket is a flexible PVC available in either gray or yellow and the jacket is pressure extruded for optimal roundness.
The multi-conductor sensor/actuator cable carries UL and CSA approvals and is ideal for both stationary and flexible industrial factory automation applications with limited mechanical stress and free movement without any tensile stress, loads or forced movements. This cable is not suitable for continuous flexing applications.
Sensor/actuator cable is available in cut-to-length 1-foot increments starting at $0.22 per foot with a 30-foot minimum cut length.
Cable is cut to length at AutomationDirect's own UL Certified respooling facility and is available for same day shipping if ordered by 6:00pm ET.
www.automationdirect.com/sensor-actuator-cable; 800-633-0405