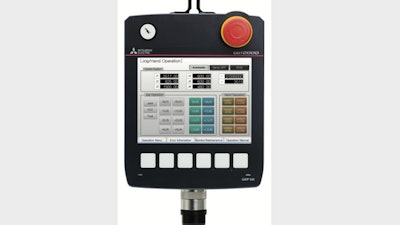 Mitsubishi Electric Automation (Vernon Hills, IL) introduces handheld models for its GOT2000 Series, a human machine interface that optimizes operator control and monitoring of device and line status. The GT25 Handy GOT, a portable interface offered in both 5.7-inch and 6.5-inch models, connects to industrial automation devices, including:
Programmable logic controllers
Variable frequency drives
Servos
Temperature controllers
The handheld HMI displays information on a high resolution VGA touchscreen and allows operators to easily carry it with one hand. While its compact design allows operators to work wherever they can best observe physical machine changes, the GT25 Handy GOT provides powerful functionality.
https://us.mitsubishielectric.com/fa/en/products/visualization/human-machine-interfaces-hmis-got/got2000-series/handy-got/gt25-handy-overview; 847-478-2100