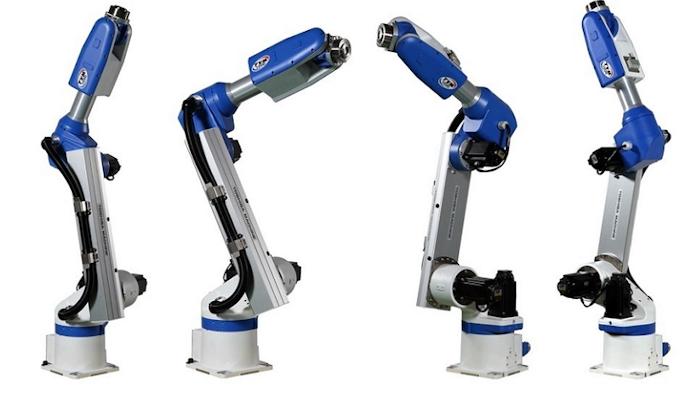 TM Robotics (Elk Grove Village, IL), Toshiba Machine's North and South American distribution partner, will exhibit several of the company's industrial SCARA and six-axis robots at Assembly Show 2018 (October 23-25; Rosemont, IL), demonstrating the latest robotics for use in assembly applications.
New product launches at the 2018 event include a live action display of the latest Toshiba Machine six-axis robot, the TVM1200. The TVM1200 is the mid-sized robot in the company's brand new, cost-effective TVM range. The robot is available in three models, each with varying reach and payload specifications. The largest model, the TVM1500, provides a maximum reach of 1715mm, whereas the TVM1200 can reach up to 1418mm. The smallest model, the TVM900, provides a maximum reach of up to 1124mm.
Alongside the new TVM range, TM Robotics will also demonstrate the TVL700, a low energy six-axis robot, and THE400, the company's newest SCARA model. These two robots will demonstrate the machine's vision and inspection capabilities, in collaboration with Keyence vision equipment. The TVL700 and THE400 will operate together in a cell designed and programmed by Precise Automation, TM Robotics' US vision integration partners.
Visit TM Robotics at Assembly Show booth #2000.
www.tmrobotics.com; 847-709-7308