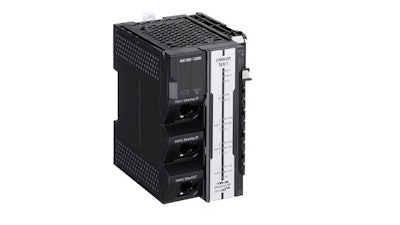 Omron Automation Americas (Hoffmann Estates, IL) recently announced the release of its latest NX1 series machine automation controller. This compact device builds upon previous iterations by integrating machine control with information utilization, quality management and safety. The NX1 enables smart factories at all levels by providing the link between compact machines and the Industrial Internet of Things. Features include:
High-Speed Data Processing That Won't Hamper Control Performance: The NX1 collects synchronized data from sensors, servomotors and other devices within the same fixed cycle time thanks to a unique multicore technology that executes high-speed data processing tasks and machine control tasks simultaneously. The controller then sends all collected data to the host IT system while keeping control performance at the ideal level.

Integration of Control and Information: The NX1 provides synchronized control of I/O and motion within a 1-ms cycle time and motion control of up to 12 axes to enable high-speed, high-precision control. The built-in EtherNet/IP, EtherCAT, OPC UA and database connection functionality allows information usage within and between machines as well as visualization of production status with MES/SCADA, traceability using a SQL database and other applications.
Integration of Control and Quality Management: Rather than requiring special inspection machines with a built-in PC, this standard controller can be used for inspections such as vibration inspection of high-speed rotators. The inspection process can therefore be seamlessly incorporated into production lines.
Integration of Control and Safety: The NX1 Series alongside the NX-SL5 Safety CPU integrates control and safety features previously unavailable in the market. With the NX1 and the NX-SL5, CIP Safety and EtherCAT Safety can be realized together on the same control system, giving robotics and factory automation users the option to integrate with varied safety networks.
With improved communication between advanced machine control functionality and vital tasks related to information utilization, quality management and safety, the new NX1 helps manufacturers stay on top of predictive maintenance and productivity monitoring without slowing down production. Better integration provides the foundation for implementing process improvements and creating a more efficient production line.
www.omron247.com; 847-843-7900